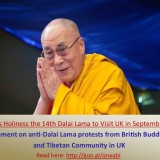 September UK visit of Dalai Lama: statements on anti-Dalai Lama protests from British Buddhists and Tibetan Community in UK
News release from the Tibetan Community in Britain, September 8, 2015
Since early 2014 a highly sectarian group calling itself the International Shugden Community (ISC) has been staging aggressive protests during His Holiness the Dalai Lama's visits to Europe, America, and Australia. ISC members have disseminated images depicting the exiled religious leader as a pig. They have described him as a "Muslim masquerading as a Buddhist" and compared him with Hitler. The protesters are likely to demonstrate during the upcoming visit of the Dalai Lama (http://www.dalailama2015.uk/) and to contact media.
The ISC is the latest in a series of front organisations set up by members set up by members of the Ulverston,Cumbria-based group known as the New Kadampa Tradition (NKT), under the guidance of Kelsang Gyatso.  There are around 1,200 of these groups worldwide, with nearly 50 centres in the UK. Their protests against Nobel Peace Laureate Dalai Lama demonstrate their alignment with the Chinese government's political campaign to undermine the exiled religious leader. (See this report: http://goo.gl/IIxgIs)
Prior to the Dalai Lama's last visit to the UK in June, when he appeared at Glastonbury Festival, The Observer ran a report on the 'toxic campaign against the Dalai Lama' by the protesters (http://goo.gl/jGSoxC). Demonstrating its usual tactics, the NKT/ISC produced videos attacking the newspaper and organised a noisy demonstration outside its London offices, alongside a lobbying campaign to pressure the paper to withdraw the story. The Observer did not retract nor apologise, and explained why here: http://goo.gl/Wf9Ge8
British Buddhists and the Tibetan Community in the UK have expressed concern over the misleading and unethical behaviour of the protesters. Their statements are included below.
Statement of UK Buddhist Organisation:  http://goo.gl/A1pJ5J
Statement of Tibetan Community in Britain: http://goo.gl/VwOShS
Also see: http://www.dalailamaprotesters.info/