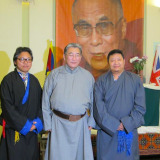 On the 6th of December, 2014, a full house of around 200 fellow Tibetans and Western friends attended our celebration of the 25th Anniversary of His Holiness the Dalai Lama's Nobel Peace Prize Award at Greenwich West Community Arts Centre. The Ambassador of Mongolia, His Excellency, Tulga Nakuur, was the guest of honour.
The programme started with the singing of the Tibetan National Anthem followed by a Dedication Prayer. The speakers paid tribute to His Holiness and mentioned how he personifies peace in this modern era.
Our keynote speaker, Representative of His Holiness the Dalai Lama in London, Mr Chonpel Tsering could not attend due to sudden ill health. Therefore, his First Secretary, Mr Wangdu Tsering, gave a speech on his behalf. He said, "We all know 25 years ago this week, a man who called himself a simple Buddhist monk, but a man who we Tibetans believe is the manifestation of Chenre Sig (Avalokitesvara), the embodiment of compassion, was awarded the Nobel Peace Prize in Oslo. Today, Tibetans, Tibetan supporters and Friends, particularly Tibetan people in Tibet, are celebrating this important occasion in their own way. We are gathered here this evening to mark this very important occasion. I sincerely thank the Tibetan Community for this wonderful event. The best way I could think to payback His Holiness' gratefulness is to listen and follow his advice, and try to practice his teaching of kindness and compassion as much as we could."
For the first time, we also had a representative of the Nepalese Buddhist Community, a community with whom we share a very close culture and belief. Lt Narayan Prasad Gurung is the Vice President of the Buddhist Community Centre based in Aldershot. He mentioned about the deep faith the Nepalese Buddhist Community have in His Holiness and that His Holiness is viewed as the reincarnation of Avalokiteshwara, the Lord of Compassion. He wished the six million Tibetans freedom soon under His Holiness. He further stressed the importance of our two communities coming closer and working together in the future.
The Mayor of Southwark, Councillor Sunil Chopra, who graced our event, applauded the wonderful and tireless work of His Holiness for the promotion of peace and harmony in the world. He said, "There is no need for a complicated philosophy. The Dalai Lama himself says that- "We can never obtain peace in the outer world until we make peace with ourselves". So let's reflect on our drives and give ourselves an opportunity to think together about our shared aspirations for meaningful and compassionate engagement! Let's combine the curiosity of the young and the wisdom of the old, and strive to make the world more peaceful through concern and service!"
Our only Western speaker for the event, Miss Isabelle White MBE, Chairman of Help Tibet, paid a touching personal tribute to His Holiness the Dalai Lama. "As happens to most of us, there are moments in our lives when amazing events happen and we never forget what we are doing when momentous news breaks. It was one of those moments that I remember when I heard the news that His Holiness had been awarded the Nobel Peace Prize. At the time I was visiting a friend in Spain and I came up the stairs to her flat and heard the telephone. I raced to the phone to find it was my sister ringing to tell me that His Holiness had been awarded the Nobel Peace Prize. What a moment of intense joy and emotion! You hear of people crying for joy but never actually see it happen but I stood there with tears falling thick and fast and wanting to shout the news out to everyone. What a fantastic moment it was!" She mentioned how His Holiness inspires and encourages each one of us to be the best we can be and how important it is to nurture and love the young to grow them into happy and responsible adults.
Our Chairman, Tsering Passang, expressed the Tibetan people's deep faith and gratitude to His Holiness for his leadership of Tibet and at a global level. "Today, His Holiness the Dalai Lama is universally recognised as a leading champion for World Peace, a leading promoter of Inter-faith and Religious Harmony and a free spokesperson on Human Rights and Environmental Protection. His Holiness the Dalai Lama is the beacon of hope for the Tibetan people, who are longing to regain their political, religious and cultural freedoms from the ongoing China's occupation of Tibet". The Chairman reiterated his commitment to develop our community and actively engage Tibetans living outside Greater London in all of TCB's activities.
The children and adult members of the community performed songs and dances much to the delight of the audience. In keeping with the spirit of the event, a sumptuous vegetarian dinner, organised by our Council Member Dr. Tamdin S Bradley, was served. After the main event, a talent show followed at which some children joyfully sang and danced, recited Tibetan poetry, played the Dramnye and gave a rendition of our national anthem on the violin. Adult members sang popular Tibetan songs accompanied by the guitar and dramnye.
This very successful special event was drawn to a close appropriately with a Gorshe (Circle dance).