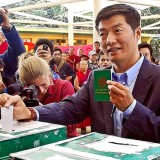 We would like to inform you that the Office of Tibet, London has sent us an official Circular from the Central Tibetan Administration's Election Commission – calling on the formation of the Northern Europe Regional Election Committee.
As per the Circular, the Tibetan Community in Britain will be putting forward names of six (3 Committee Members and 3 Observers) members from our community to form this Committee. The Committee's primary role would be to oversee the 2016 General Election for Sikyong (Political Leader)  and two Chithue (Tibetan MPs from Europe)
As the CTA's Election Commission requires the names of this Committee with their bio-data by the 20th of May, in consultation with the Office of Tibet, the Council of Tibetan Community in Britain are calling the polling day on Sunday, 17th May 2015 which coincides with the Solidarity Event for the Panchen Rinpoche at Kailash Centre organised by the Office of Tibet. Since both events are happening at the same venue, we urge maximum participation.
When : Sunday 17th of May, 2.30pm
What :
1)  Panchen Rinpoche Solidarity Event
2) Election of 2016 Regional Election Committee Members
Where : Kailash Centre
1 Culworth Street
London
NW8 7AF
If you have any queries, please feel free to contact Tenzin Kunga la at the Office of Tibet on 020 7722 5378 or Tsering Passang (TCB) on 07927 376 532.
—————————————————————————————————————-
CTA's Election Commission has confirmed the set-up of Regional Election Committee: Northern Europe, as follows:
————————————————————————————————————–
Election Committee Members:
Representative (ex-officio President)
Three Members from within UK
One member each from: Denmark, Ireland, Norway, Sweden, Poland
Total number of members: 1 + 3 + 5 = 9
Observers:
Three from within UK
One each from: Denmark, Ireland, Norway, Sweden, Poland
Total observers: 3 + 5 = 8
The Tibetan communities (in UK, Denmark, Ireland, Norway, Sweden & Poland) should arrange for the election, from within the community, of one member and one observer to the Regional Election Committee of Northern Europe.
The preliminary as well as final voting (Europe Member of Tibetan Parliament and the Sikyong) will take place in the respective country, under the supervision of the elected Regional Election Committee member of that country, and will be monitored by the elected Observer. The Tibetan Community council members are requested to extend all possible assistance to the elected Regional Election Committee member and the elected Observer in the proper conduct of the elections.
After the conduct of elections, the votes cast will be sealed, in the presence of the Election Committee member and observer, and the council members of Tibetan community. This will be sent to Office of Tibet, London.
All the votes cast in different countries will be collected here in London, where the counting will take place, in the presence of at least 2/3 members of Regional Election Committee of Northern Europe region; and in the presence of at least 2/3 observers
The number of Regional Election Committee Members required for vote count:
Two-thirds of Nine, i.e., 6 Members. Two Members will have to travel to London from outside UK
The number of Regional Election Committee Observers required for vote count:
Two-thirds of Eight, i.e., 5 Members. Two Observers will have to travel to London from outside UK