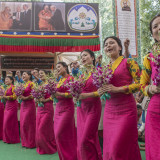 26th Anniversary of the Awarding of the Nobel Peace Prize to His Holiness the 14th Dalai Lama
Saturday, 12th December 2015 from 5 till 11.30pm
An annual community event in honour of His Holiness the Great 14th Dalai Lama of Tibet
His Holiness the Dalai Lama's massive contribution beyond the Tibetan Plateau is well documented from promotion of human values and inter-faith religious harmony to the scientific community for the betterment of human society based on strong moral ethics.
The Tibetan Community in Britain is very delighted to host this annual event for our community members, admirers of His Holiness the Dalai Lama and friends of Tibet while remembering our gratitude for the unwavering compassionate leadership of Tibet's Spiritual Leader.
We are very pleased to announce our specially invited guest speakers:
Chonpel Tsering, Representative of His Holiness the Dalai Lama, The Office of Tibet, London
Phuntsog Wangyal, Founding Chairman of Tibet Foundation, Former Representative of H.H. the Dalai Lama, Former Chithue (Member of Tibetan Parliament in Exile)
In addition to the delicious Tibetan food, there will be Tibetan songs and Gorshey to bring fun and joy to our members and friends.
ALERT! The capacity of this venue is limited. We request early bookings to avoid disappointment. No bookings/entries will be entertained once reached maximum capacity.
TICKETS INFORMATION:
For advance booking / paid TCB members: £10.00 (for all adults)
Teenagers: £5 (Free for children below 12)
Door: £15 (if only places available)
Contacts:
Jampa Dorjee : 07983 426 244
Penpa Sirso : 07515 642 104
Tsering Wangmo : 07714 502 838
Lobsang Tsultrim : 07879 053 361