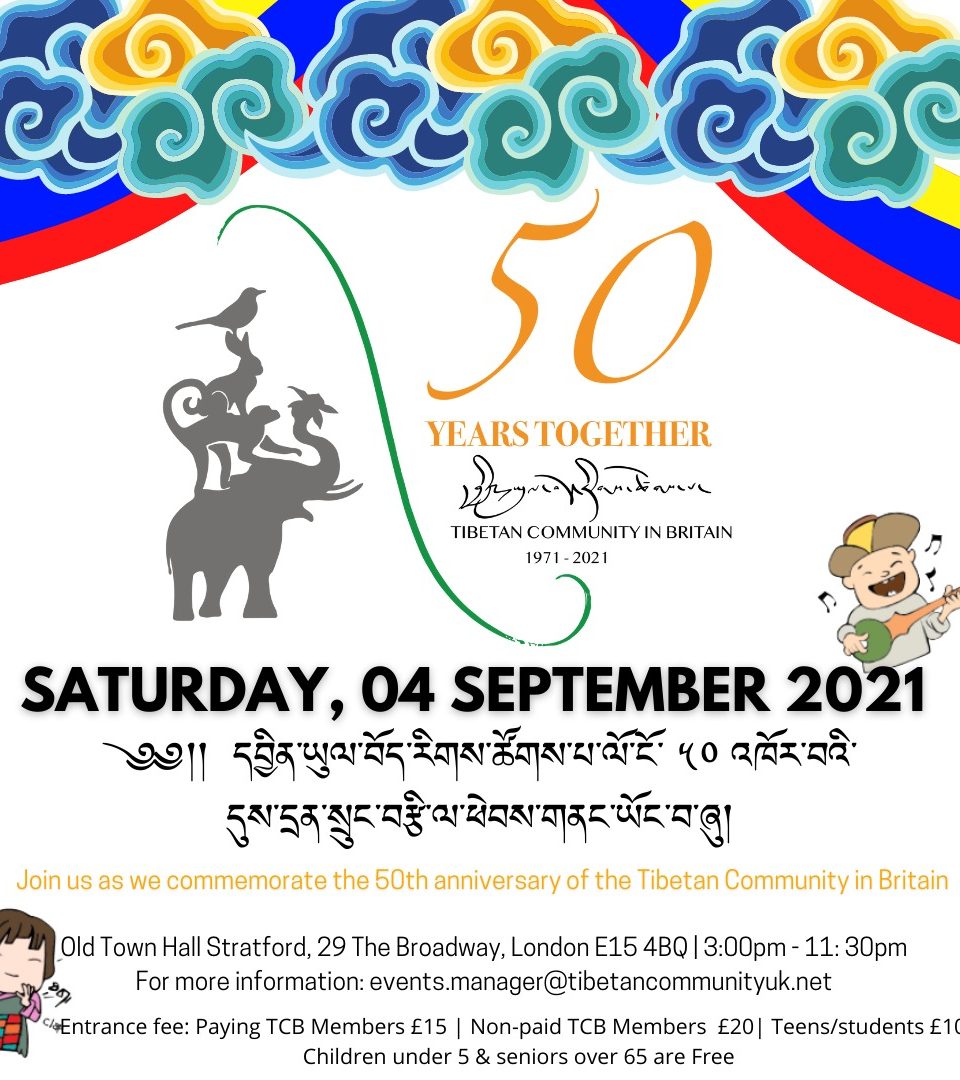 This year the Tibetan Community in Britain turns 50! Join us on Saturday 4th September 2021 as we come together to commemorate this special occasion and celebrate our shared work, vision and togetherness.
As you all know the extent of Covid-19 risk, the Old Town Hall of Stratford has put limit of audiences to 180 people. However, after subsequent negotiation and with our best effort we were able to push the number of audiences to 260 people. So, we highly encourage everyone to buy the tickets as earlier as possible to avoid disappointment at the end. The ticket is based on first buy fist serve.
The details of the ticket are as below:
Paid TCB members:   £15.00
Non-paid members:     £20.00
Teenagers/Students:   £10.00
Children between 6 to 12 years: £5.00
(Children under 5 years and Senior member above 65 years: Free)
The ticket should be paid first via PayPal and need to send ticket reservation email on   ([email protected]tibetancommunityuk.net )and make sure to mention how many people you have paid for and number of children under 5 and senior member above 65 years old with you. If you want to buy the ticket on Paid TCB members, you can pay the membership fee at the venue. (Please keep in mind that there is no ticket sale at the venue. So, buy ticket in advance and reserve through email). 
Pay and reserve ticket in advance.
Payment link –
https://www.paypal.com/donate?hosted_button_id=PYTFY6KNS4AP8
In this unprecedented situation due to Covid-19, there are so many responsibilities for both organiser and every individual. And the Covid-19 safety and restriction measures will be taken there at place. For yours and everyone's safety, we hope that everyone eligible has had their covid vaccine. We are requesting everyone from 11 years old who are attending the function to have a lateral flow test and bring the result which will be checked at the entrance. So please get ready and order your kit from the link provided here. Children of primary school age or younger are exempt as per Govt guideline.  https://www.gov.uk/order-coronavirus-rapid-lateral-flow-tests
We have arranged a team of volunteer nurse from Tibetan Registered Nurse in UK to regulate the Covid safety measure. Please, wear face mask and use hand sanitiser available at the venue. Also keep the social distance as much as possible.
Please click the link below to watch the video promotion of 50th Anniversary celebration by current TCB Board Member
https://www.facebook.com/TibetanCommunityUK/videos/821153365434916/